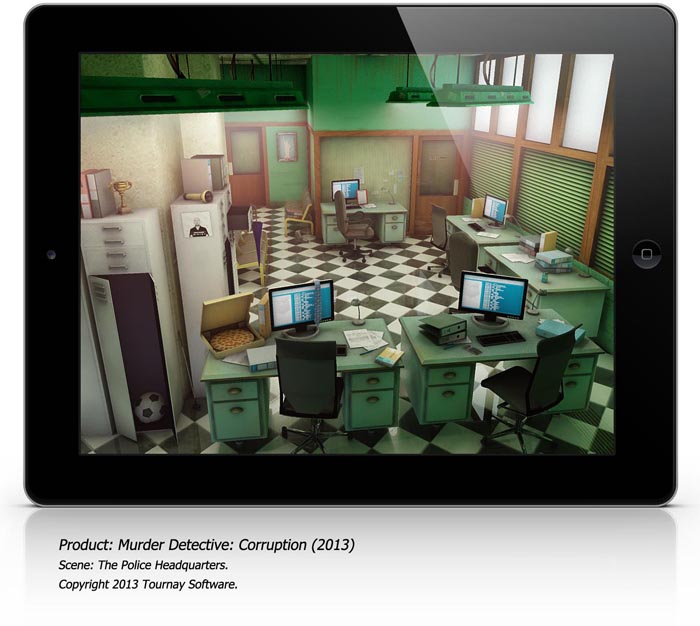 BACKGROUND INFORMATION
I created this background for use in the Murder Detective Corruption game.  It's actually an updated version of the scene I did for the original game with a little more detail added – primarily clues for the player to find.
The environment was inspired by those dingy old police precincts the cops used to work from in '70s TV cop shows.  Starsky and Hutch etc.   I'm sure suspended ceilings and office carpets would be more applicable to today's cop shops, but where's the fun in that?  Of course, this can't be the 70s because the tie hanging off the monitor isn't wide enough.
To give you some insight as to how the scenes are put together, below are the main layers that went into this particular scene.  We have a base render, followed by some ambient occlusion shading, followed by some atmospheric volumes.  These are layered in Photoshop with different blending modes and opacity levels to achieve the final look.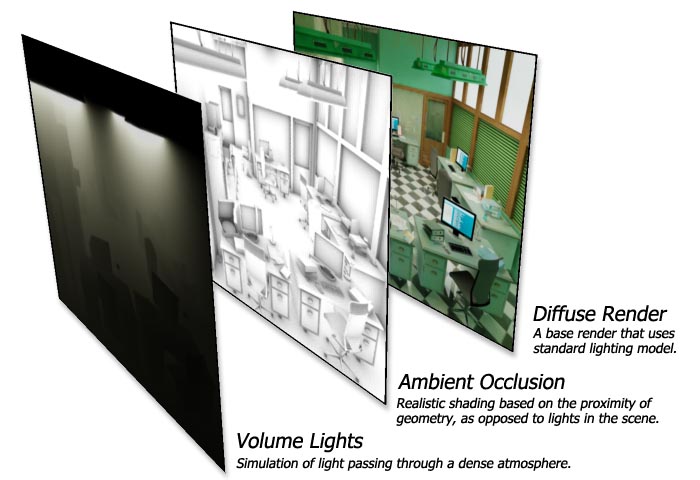 When I first started rendering detailed scenes I used to try to get the above effects directly out of the renderer in the final image.  These days, I find keeping effects layers separate gives me more control – ultimately saving me time.  This approach was inspired by a Mental Ray artist called Jeff Patton.  If you're into rendering, you should definitely check out his website.
The Police Headquarters
Categories →
Architectural
iOS | Android Games
Client →
Tournay Software