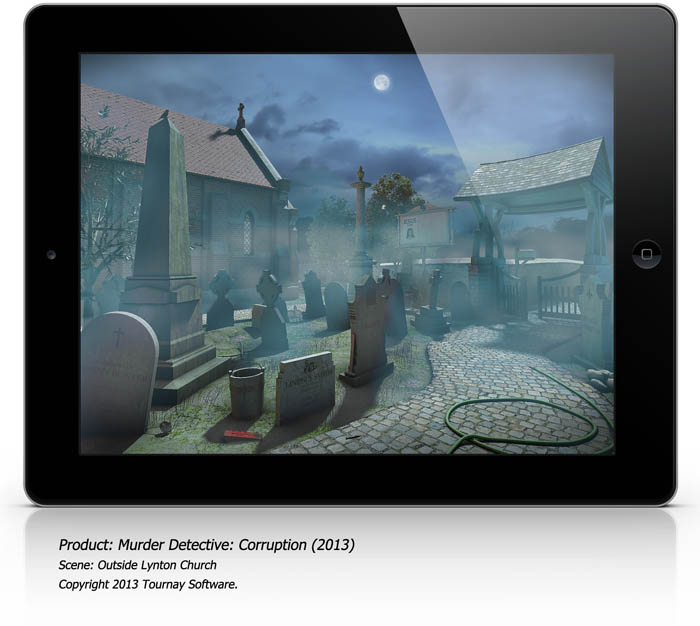 BACKGROUND INFORMATION
Lynton Church was a rendered scene that I created for Murder Detective 2: Corruption.  It's a composite render, with lots of different layers that define shading and atmospheric features such as fog.  The final composite was done in Photoshop.
One of the features of the Murder Detective games is you need to be able to look for, and find clues.  So, although this scene is set in the dead of night, the viewer still needs to be able to see the details.  Therefore the scene is actually quite bright (for a night scene!)
The church itself is based on a modern American building – the client sent me the photo reference for that.  The headstone shapes come from the local church in Tickhill with the larger obelisks based on structures in Hyde Park Cemetery, Doncaster.  If you're an aficionado of digital art then I advise you to head over to your local church with a camera – you'll find a wealth of useful imagery.  Be sure to put something in the collection box though, you don't want to be bludgeoned by the local vicar!
ANIMATION
In addition to the detailed still render, the client also asked me to create a small movie intro for the game to show one of the characters being shot.  This was to be the first of five small movies for the game.  I'm really not an animator, so I was slightly out of my comfort zone on this.  In the end I created and rigged a character.  And, after a few not-so-successful attempts at keyframe animation I discovered the holy grail that is motion capture!
The base for the character model was created by Lee Kellett.  Motion capture data was licensed from Mixamo.  Editing and compositing was done in Adobe Premiere Elements.  I don't think I'll be working for Robert Zemeckis any time soon, but the client was happy with it:
There are some really impressive looking marker-free motion capture systems available now.  For our next project, I intend to set up my own motion capture area so I can create completely bespoke animations for my clients.
Lynton Church
Categories →
Animations
Architectural
iOS | Android Games
Client →
Tournay Software