THE F2 TARGET TEKKERS – iOS / Android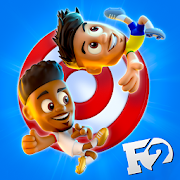 In 2019 I worked on a mobile game called F2 Target Tekkers for Soccer Manager Limited. I was asked to oversee level art production on the game, which was a 2D physics puzzler. The game was based on the popular YouTube channel F2 Freestylers and was to be set in a number of real-world locations.
The level art was done in a clean cartoon style. 2D vectors seemed like the best option to work in, but the thought of hacking my way through a project using Adobe Illustrator was kind of depressing. So, having used it the previous year, I decided to cut the Adobe cord and jump over to Affinity Designer. It was a bit of a risk to be honest, as it meant that the source art would be in Affinity format rather than AI format. But it turned out to be the right decision, as it took a lot of stress out of development. I was joined by fellow designer Darren Hebden a short while into the project and he also made the switch to Designer.
It took a few weeks for a production sequence to establish itself. The levels would be grouped into environments. And, each batch of environment structures would be designed in advance of any artwork. Occasionally some of the layouts would reference real-world objects, such as characters or vehicles. But for the most part, the layouts were arbitrary blocks. So the first step in creating the artwork was to try and visualize how these blocks might be portrayed as scenery.
I found the best way to do this was in two stages. I first compiled all the blocked-out levels onto a single image. This was beneficial in the respect that it gave me a sort of 'overview' of the entire zone. This, in turn, helped to visualize where certain graphics or textures could be re-used throughout the zone (to save memory). Once I had the basics of the entire zone drawn out, I was able to go through each individual level layout and sketch in the necessary detail.
Once this phase was complete, I sketched out a reference image showing all the required assets. Darren and I would then work through these graphical elements.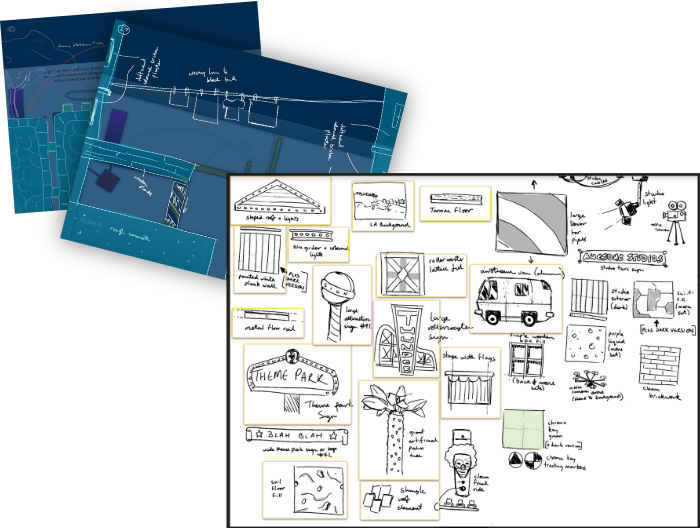 In the past, I have been a huge fan of Trello for organizing projects. If you aren't familiar with it, Trello is a sort of interactive notice board – with sticky notes that you can move around and add information to. This all updates in realtime, so it can give you a really good snapshot of where a project is. Here's a view of the board used for the F2 gfx:
I continued to use Trello to coordinate the work to the end of the project. However, as the pressure to complete the artwork grew, I moved towards using Google Drive and its associated tools for tracking production. I think the primary problem with Trello, is the option to 'download' content is quite limited. I can drag 30 images onto Trello with relative ease. But downloading 30 images can be really cumbersome. So while Trello is good for quickly referencing something, Google Drive is needed for bulk downloads.
I think it's worth noting that the character art was done by an old colleague of mine called Nik. If you want any character work doing, I highly recommend him. Also, the awesome promotional art for this game was created by an artist called AJ Jeffries – check out his website at moonjam.com.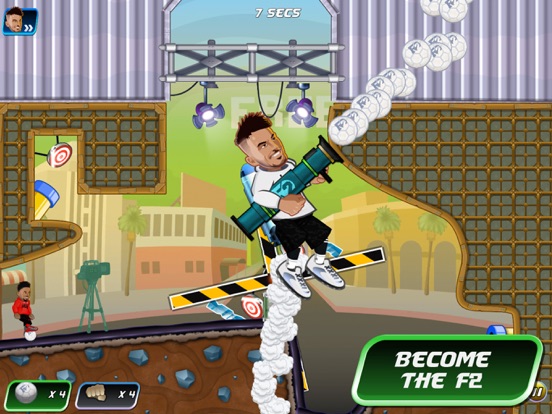 All the level mapping in the game was handled by my old friend and colleague Mat Hopwood. He took our raw graphical elements and built the levels in Unity. Towards the end of production, we were able to help Mat on the mapping side of things by providing some assembled graphical elements as Unity Packages. The product made extensive use of the 2D Sprite Shape feature, and we used this to create more complex elements like trees.
This project was a really good test for the Affinity Designer. While it didn't sport all the bells and whistles of Adobe Illustrator, it more than made up for it by being nicer to use in general.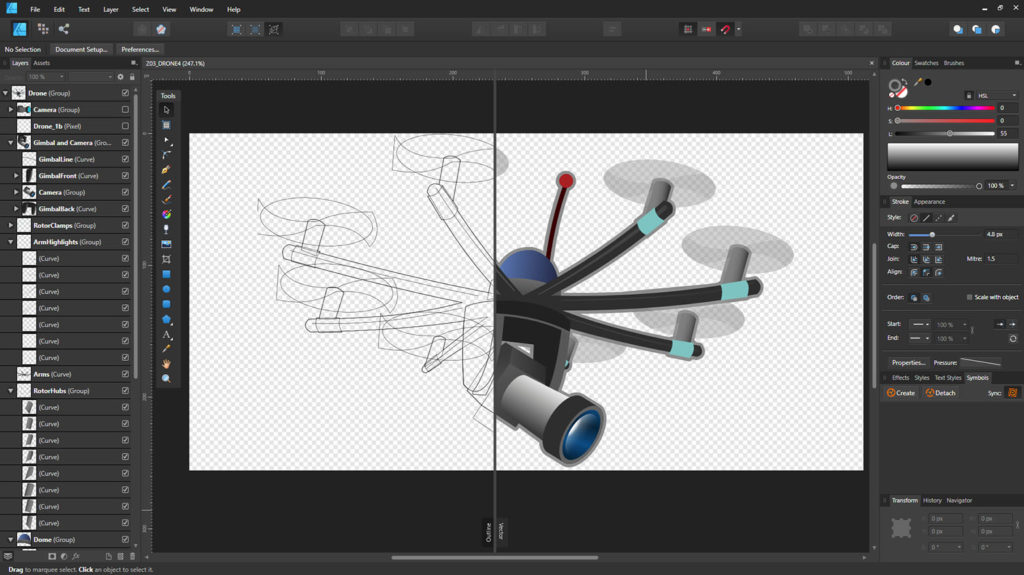 F2 Target Tekkers seems to have reviewed quite well, which is great. The reviews on the Google App Store currently sit at 4.6 / 5. The project was hard work from a creative standpoint, as everything was originated from scratch. I came up with a few techniques that help in doing this kind of work, which I may put into a blog or tutorial at some point.
If you want to see the game running, here's a link to the YouTube promo video, set to start at the part where the game is shown. If you're a fan of the F2, feel free to wind it back to the beginning.
The F2 – Target Tekkers
Categories →
iOS | Android Games
Unity 3D